2022 CMCP "In Session": A Virtual Series to Acquire MCLE Credits and Network by Practice Area
January 20, 2022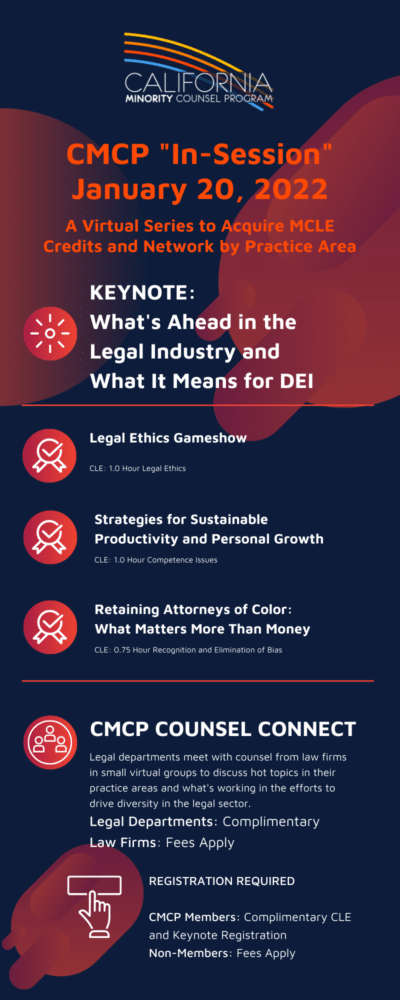 Earn MCLE Credits and Network by Practice Area.
---
KEYNOTE:
What's Ahead in the Legal Industry and What It Means for DEI
January 20, 2022
9:00am – 10:00am
Panelists:
Ralph Allen, Chief Operating Officer,
Stroock & Stroock & Lavan LLP
Peter Zeughauser, Chair,
Zeughauser Group LLC
Kent Zimmermann, Partner,
Zeughauser Group LLC
---
Legal Ethics Gameshow
January 20, 2022
10:15am – 11:15am
CA MCLE credit: 1.0 HR Legal Ethics
A lively game show-style session engaging the audience in analyzing hypotheticals involving potential ethical issues for in-house and outside counsel.
Panelists:
Rasha Gerges Shields, Partner,
Jones Day
Tonya Long, Corporate Counsel,
Intuit
Chaka Patterson, Partner,
Alston & Bird LLP
Nikolas Takacs, Senior Counsel,
Visa, Inc.
Moderator:
Deborah (Debbie) Yoon Jones, Partner
Alston & Bird LLP
---
Strategies for Sustainable Productivity and Personal Growth
January 20, 2022
12:00pm – 1:00pm
CA MCLE credit: 1.0 HR Competence Issues
Drawing upon neuroscience, spiritual wisdom, and creative practices, this interactive course teaches frameworks and practical techniques to boost emotional and social well-being.
Participants will develop strategies to incorporate the learnings in daily life for emotional regulation, mind/body rejuvenation, and improved relationships with oneself and others.
Panelists:
Beibei Song, Principal,
Song Essinova, LLC
---
Retaining Attorneys of Color: What Matters More Than Money
January 20, 2022
1:15pm – 2:15pm
CA MCLE credit: 0.75 HR Recognition and Elimination of Bias
Panelists:
Jennifer Peneyra, Director, DEI Project Management,
Silicon Valley Bank
Carita Walker, General Counsel, 
Green Lots
Alexis Yee-Garcia, West Coast Diversity Director,
Sidley Austin LLP
Moderator:
Gavin Masuda, Partner
Latham & Watkins LLP
---
CMCP Counsel Connect
January 20, 2022
2:30pm – 4:30pm
CMCP Counsel Connect creates an opportunity for in-house counsel legal departments and counsel from law firms practicing in the same area of substantive law to meet in small groups to discuss their practice area and examine efforts to drive diversity in the legal sector.
---
CMCP In Session CLE Registration Pricing:
Law Firm Non-Members: $150
Corporate Non-Member: $100
Counsel Connect Registration Pricing:
Law Firm Members: $100
---
If you require a reasonable accommodation in order to participate in this event, please contact events@cmcp.org with 2 weeks advance notice