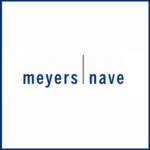 Meyers Nave Riback Silver & Wilson, PLC
Meyers Nave is a dynamic 65-attorney firm with 5 offices throughout California. For over 30 years, we have built a reputation as a "go to" law firm to handle high profile and high stakes matters for both public entities and private sector clients.
Our Trial and Litigation Practice Group includes a thriving complex litigation practice focused on complex crisis litigation such as wildfire litigation defense, constitutional law, civil rights claims in the land use context, takings, employment litigation, and First Amendment. We represent public and private clients in all phases of litigation from initial pleadings through discovery, dispositive motion practice, trial, and appeal in both federal and state court.
Position Summary:
Meyers Nave is looking for an energetic, committed, and diligent litigation attorney with seven to ten years of experience for the firm's Trial & Litigation Practice Group located in our downtown Los Angeles office. Qualified candidates must have excellent academic credentials, outstanding analytical capabilities, superior research and writing skills, a strong work ethic, a proven ability to work in teams, and an interest in building a practice. Candidates must possess significant experience with discovery, including e-discovery, and law and motion practice. Trial, substantial federal practice, and public entity experience are additional preferred (but not mandatory) qualifications.