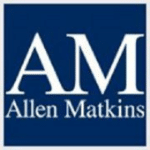 Website allenmatkins LinkedIn Allen Matkins Leck Gamble Mallory & Natsis LLP
Position Summary:
Allen Matkins is seeking an associate with a minimum of 3 years of experience to work on a full spectrum of land use matters, including project entitlement and litigation.
Duties and Responsibilities:
The preferred candidate will have experience with permitting, entitlements, CEQA/NEPA, planning and zoning law, the Subdivision Map Act, and land use litigation, including CEQA litigation. Experience with natural resources, wetlands, endangered species, California Coastal Commission, and historic preservation is helpful but not required. Experience or interest in environmental law, including contaminated site transactions and litigation under CERCLA, the Clean Water Act, the Clean Air Act, and state equivalents is also helpful but not required. This position can be located in either Century City or Los Angeles, but will also work periodically with attorneys in our other offices. A high level of academic achievement and major law firm experience are required. Admission to the State Bar of California is required.